Explore Trunk Bay and the Beaches of St John!
---
"Exploring Trunk Bay and St John beaches is great fun! Did you know that there are 39 of them??! Yes, 39 beaches!! (I'll get to some of my favorites later.)"

This island, even though it's small, has some of the most beautiful beaches that I've ever seen in all my travels!
---
| | | |
| --- | --- | --- |
| | | |
| My daughter on right and her friend enjoying swimming and playing at the beach!! Click photo to enlarge. | Another gorgeous day at the beach on beautiful St John USVI! Click photo to enlarge. | What a vew! Trunk Bay beach taken from one of many overlook sites! Click photo to enlarge. |
---
Three of St John beaches that are the most famous are Trunk Bay, Hawksnest and Cinnamon Bay. They have the most incredible white sand that is so beautiful and feels great between your bare toes! The water color is turquoise, emerald, no……teal!? It's near impossible to describe! The beaches are unspoiled and just lovely and the sand is so smooth!

Many of the beaches are located within the Virgin Island National Park and because of that they are spectacular because they're protected.

Here are some of my favorites…..
---
Trunk Bay
This beach is incredible! Even though is does get busy when the cruise ship come in to St Thomas this beach is so worth visiting for the day. If you go to the far right or far left you can avoid the people and have a great time. I like being in the midst of people, I like to people watch!


Anyway, this beach is very popular because it's gorgeous but it also provides facilities that are a big plus. There are showers, bathrooms, locker rooms, snack-bar, grills and picnic tables and also rental equipment.


The snorkeling is great for beginners and experienced folks. There is actually a marked underwater trail for snorkelers that even beginners can do.


There is a fee that the Virgin Islands National Park charges. It is $4.00 p/p as of this printing. It's so worth it!
---
Hawksnest
This beach is located the closest to Cruz Bay which is considered the main town. It's a beautiful location and the beach has palm trees and sea grape bushes that run along its border.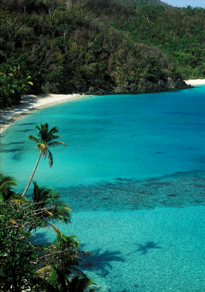 The water here is very calm and would be great for families with young children. The beach has restrooms, changing rooms but at this time no food.
---
Cinnamon Bay
I love this place and can't wait until I can return and stay at their campsites!
You can rent cottages and campsites at Cinnamon Bay Campground. (Click here for camping information.)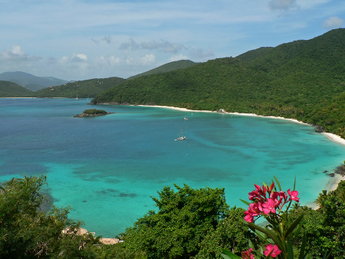 Here's some information if you're just visiting for the day:


Amenities of the campground are available for you to use and they include a restaurant, restrooms and showers, lockers, telephones, grills and picnic tables and rental equipment for windsurfing, snorkeling, kayaking and volleyball. There is bus service here also and that's a great plus!

Again, beautiful serene beach and very, very clean!
---
"I do hope you'll have time to visit as many of the beaches as you can when you visit. I still think Trunk Bay is the most beautiful even though it's the most visited.

All of the beaches of St John have something special to offer you. Some are not easy to get to and you may have to hike in to visit them, but people will be scarce, ……if that's your "escape from reality" then go for it!"
---
Go to my Homepage from Trunk Bay and Beaches