"Intoxicating and Beautiful, St John USVI"
"Hello and Welcome to St John!" Although you'll only be visiting in your mind "right now", I know that after you relax and enjoy the photos and information I've provided for you, you will agree that this USVI island is "intoxicating and beautiful".


Hi, my name is Julie and my passion is traveling. I was a travel agent for over 12 years and my passion for travel grew from all my experiences that I was blessed to have. I was fortunate to travel to many parts of the world, but I was always partial to the islands and especially St John USVI!


If you travel or you desire to, you'll find out that once the travel bug has bitten you.. it won't let go! That certainly has happened to me!


Anyway, let's get back to this gorgeous island.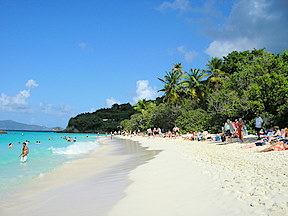 I'd have to say that my favorite memory is flying over the Virgin Islands getting ready to land. I remember seeing the amazing colors of the water. The shades of blue, turquoise, and green and the reflection of the sun on the water, sparkling like diamonds, is almost indescribable! Just gorgeous! I couldn't wait to get there and slide into that water. And by the way, it not only looked beautiful, it felt wonderful!


I have lots of great St. John USVI information to share with you. The fabulous villas that can be all yours, the exceptional resorts like Caneel Bay, the Westin St John, famous beaches like Trunk Bay, the laid back campgrounds of Cinnamon Bay and Maho Bay, restaurants and nightlife.......


"So....let's get going."