St John Island shopping....a unique mix!
---
St John island shopping is a mix of local hand crafted items, Caribbean paintings, local designer jewelry, Caribbean spices, hand painted clothing, batik, local music CD's, to fun souvenirs!
---
OK……so let's get to the "good stuff" now….the shops!!!

St John Island is small, but is BIG in shopping!


I recently visited Mongoose Junction again while we were there in November 07. What a beautiful shopping center and only a 5 minute walk from the Cruz Bay ferry! Nothing like that here where I live! There are various buildings within Mongoose Junction and each is crafted of beautiful stone walls and woods that made it look like 18th century Danish architecture with a hint of modern design. Beautiful stone archways and walkways over a brook only add to the ambiance!



Mongoose Junction offers unique shops, restaurants and galleries.
---
| | | |
| --- | --- | --- |
| | | |
| Photo welcoming you to a unique shopping experience at Mongoose Junction! Click photo to enlarge. | You're in for a treat when shopping in Paradiso at Mongoose Junction! Click photo to enlarge. | Take a break from the shopping at Mongoose Junction at one of many restaurants! Click photo to enlarge. |
---
Listed below is a brief rundown of the various shops and galleries at "Mongoose Junction":
Bajo el Sol Gallery: 340-693-7070, www.bajoelsolgallery.com, Beautiful 3 room art gallery that was established in 1993, many St John local artists original pieces of work, photos, metal sculpture, pottery, wood carvings, pastels and oil paintings, geo-kinetic sculpture.
Bamboula: 340-693-8699, www.bamboulastjohn.com, great St John Island shopping! Beautiful handmade instruments and wooden bowls, home furnishings, wall hangings, Haitian crafts, unique block printed bedspreads, local musicians CD's, jewelry and clothing.
Best of Both Worlds: 340-693-7004, www.thebestofstjohn.com, Check out the designer jewelry by Barbara Heinrich and the colored art glass. Just wonderful! Collectibles, unique metal sculptures, original art, Caribbean paintings and designer jewelry.
Big Planet Adventure Outfitters: 340-776-6638, The place to go before you go hiking! Top quality items, well know brand names such as Teva, Patagonia, Timberland and Birkenstock to name a few. Hiking sandals, other footwear, sunglasses, backpacks, beachwear and accessories. For adults and children.
The Bougainvillea Shop: 340-693-7190, Colorful St John island clothing, great shoes and plentiful swimwear. Tommy Bahama items, chic resort wear for men and women, straw hats and bags, fine gifts.
The Body Deli: 340-776-0454, www.thebodydeliusvi.com Using the important nutrients found in living plants to create cosmetics and beauty products. A great shop to touch and feel exclusive chemical free formulations. Hand made products, soy candles, essential oil diffusers.
Caravan Gallery, 340-779-4566 , www.caravangallery.com, famous for the St John island hook bracelet, owner travels around the world for unique treasures for the shop, gifts and jewelry items, sterling, gold and rare gemstones.
Club Cigar II: 340-714-2477, Cigars, Locman watches, perfumes and sunglasses by Armani, Versace and Quick Silver. Premier Cigars – Davidoff, Partagas, Macanudo, and S. Fuente.
Fabric Mill: 340-776-6194, www.thefabricmill.com, great silk-screened and batik fabrics, hand painted white on white linen clothing, beautiful colorful Caribbean clothing, sarongs, scarves, shoes. Local artists work. Home interior items can be special ordered.
Hurricane Alley: 340-776-6256, www.hurricanealleyvi.com , beach clothing for women, men and kids, colorful Caribbean outerwear, towels, hats and accessories, snorkel gear for sale or to rent.
Island Fancy: 340-776-6940, fun colorful store with great tropical gifts, local artists items for sale, books, games and souvenirs.
Jewels: 340-776-6007, www.jewelsonline.com. Retailer of David Yurman, Bvlgari, Gucci and Ebel. Exquisite pieces of designer jewelry and Swiss watches.
R & I Patton Goldsmithing, 340-776-6548, www.pattongold.com, Rudy and Irene Patton have owned this business since 1973. Fine designer pieces. Specialties are US and Spanish treasure coins and St John petroglyph pieces, loose pearls available, sterling silver items.
Sea Leathers and Antique Jewels: 340-777-6850, www.sealeathers.com, Very unique St John store. All products are approved by the Dept of Fish and Wildlife and no endangered species is ever used. Specialty items made from skins of crocodile, ostrich, salmon and eel, stingray, shark, snake and parrotfish. Unique jewelry items, marcasite, reproduction pieces and gemstones.
---
The "Wharfside Village" is a fun and colorful St John island shopping area with lots of great shops! You'll find your basics to very upscale stores that offer items so unique that you'll be amazed. You definitely want to visit these shops. Don't miss out on a great adventure!


Cruz Bay Clothing Company, 340-693-8686, Fun store with nice selection of men's and women's tropical clothing, bathing suits , Caribbean dresses, t-shirts, beach bags and sunscreen, gift items.
Cruz Bay Photo Center, 340-779-4313, For all your photo needs. Single use cameras, batteries, film, photo processing, digital cameras, binoculars, telescopes, accessories and sunglasses.
Cruz Bay Trading Post, 340-776-9550, This place has everything from tea to pottery, rum cakes, candy, perfume, clothing for the family, gift items and great spice selection.
Dreams and Dragonflies, 340-770-4212, www.dreamsndragonflies.com , Absolutely stunning jewelry, a must see. Ladies' hand painted clothing, percussion instruments, art work, gift items.
Freebird Creations, 340-693-8626, www.freebirdcreations.com, A very inviting shop with a fun collection of items. You'll find Petroglyph jewelry, nautical sterling silver anklets, shipwreck coin jewelry, beautiful blue stone Larimar jewelry, Caribbean Hook rings and a fun pirate collection including skull and Xbones. Great St John island shop!
Galeria Del Mar, 340-693-9399, www.galeriadelmar.com, Beautiful fine art gallery with many island paintings and prints, blown glass items, sculptures and ceramics. A must see for some local St John island art.
Into The Blue,340-777-1489, www.intothebluevi.com, What a collection! Fabulous designs of pendants, necklaces, bracelets, hand blown glass jewelry, murano glass jewelry, sterling silver chains. Many of the designs include Mabe Pearl, Blue Topaz, Abalone, Peridot, and Amethyst just to name a few.
Palm Jewelers, 340-774-5307, www.palmjewelers.com , Gorgeous store with high end pieces, featuring items from the Caribbean Bracelet Company and the Virgin Islands Bracelet Company, many beautiful diamond pieces, sterling silver, and pearls.
Shae Designs, 340- 776-0669, www.shaedesignsjewelry.com, Intimate store with unique jewelry made from shell and gemstones, freshwater pearl items, mother of pearl, crystal pieces, hematite and turquoise. I love this store.
Turquoise Turtle, 340-714-2696, Designer swimwear in many sizes in beautiful Caribbean colors, beach accessories, sandals, cover ups, hats, sunglasses and jewelry.
Verace, 340-693-7599, www.verace.com, Fine designer jewelry, some 18 K, many unique gemstone pieces, nautical theme items, mother of pearl, Italian crafted bracelets.
---
"Hey, here's more St John island shopping in the "downtown area" near the ferry in Cruz Bay.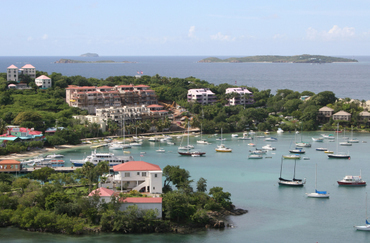 "View of beautiful Cruz Bay, on St John island."
Captain's Corner, Souvenir shop with Pirana Joe line, liquor, newspapers, cigars, Larimar jewelry, pirate stuff, ice cold beer and soda.
Coconut Coast Studios, 340-776-6944, www.coconutcoaststudios.com Studio featuring the collection of art work by Elaine Estern. Her colorful watercolors are available in the original form, as reproductions, lithographs, as a calendar, in tiles that can be purchased small for decorating or large for framing, coasters, t-shirts and work of her beloved dogs. Great local artist!
Columbian Emeralds International, 340-779-4994, www.dutyfree.com I'm sure you've heard of them if you're a true shopper! A world famous store featuring emeralds, diamonds, tanzanite, gold and silver, to name a few precious stones. They also carry semi-precious stones and men's jewelry.
Coral Bay Jewelers, 340-777-6167, www.stjohnjewelers.com One of a kind store with one of a kind pieces! Featuring hibiscus gold jewelry, a petroglyph line, unique Bay Bracelets that are the designers interpretation of each bay on St John, and Hook bracelets made right there. Not your typical St John island jewelry store.
Kareso, 340-714-5511, A beautiful collection of work by local artists. Handcrafted woodvases and bowls made from tropical woods, handmade clothing, crafted baskets that are very unique, oil painting of St John island scenes and people, photographs.
Pink Papaya, er0-693-8535, www.pinkpapaya.com, Not to be missed! Colorful, Caribbean shop featuring some local artists work. Oil paintings by Lisa Etre are to be seen, fun holiday ornaments depicting tropical flowers and fish, fun critter ornaments, home accessories, books, jewelry and local music.
St John Spice, 340-693-7046, www.stjohnspice.com Fun, upbeat store. A great collection of spices, grill rubs, hot sauces, jams and jellies. You can usually get a sample of one you'd like to try before you buy. Island made toiletries are available, beach stuff, hats and t's.
Sparky's, (340)-776-6284, Located close to the ferry dock in Cruz Bay, you can pick up just about anything you need here. Magazines, newspapers, ice cream, beer, soda, gift items, film etc.
---
St John island, St Thomas and St Croix are very well known for great prices and being duty-free.


The US Virgin Islands are well known for great buys on the following items:
liquor, gold, emeralds, watches, jewelry, cameras, perfume, cigarettes, electronics, crystal, china and porcelain.
Island made items of good value are: local music, batik, straw items, island dolls, local hand painted clothing.
***Important information on GOLD purchases:
If the gold is European it may not be noted as 24k,18k or 14k.
*24K would be listed as 999 (or 99.9% pure)
*18K would be listed as 750 (or 75.0% pure)
*14K would be listed as 585 (or 58.5% pure)
---
"I hope this information helps you out in your shopping planning.....have fun"!
---
Return to Home Page from St John Island Shopping