How do you choose?
Two extraordinary beachfront
St John Resorts!
How do you choose between these two St John Resorts?


"Making a decision on what resort to stay in is a big deal! I've seen both resorts and both are just beautiful. Yes, they have their differences…..but the decision is up to you.

So….like the title of my website, St John USVI Information here are the goods…
I'm going to start first with the big differences between these two resorts."
---
First off, the
The Westin St John has all no-smoking rooms. You can smoke on your patio or balcony but not in the rooms. (This could make or break your vacation!) The Westin does provide rooms of all sizes, to include up to 3 bedroom villas. This is great for large families or couples traveling together. This could be a little more cost efficient, possibly eating some meals in!


The Westin is closer to Cruz Bay so it is more convenient if you like to shop or like eating out at various restaurants. I still do recommend renting a St John car rental for a few days while you're staying at either of these St John Resorts to explore the island. (You have to get to Trunk Bay!! It's a must!) The Westin does have a kids program for ages 3-12.
Click here for detailed information on the Westin!
---

Caneel Bay resort has no TV's or telephones in their rooms and they do not have villas available but offer larger accommodations called Cottages. (Definitely something to consider if you have kids.) This would be fine for me but, maybe not for you! I must say though that their rooms do have a more glamorous feel to them. Most have beautiful natural wood and stone in them.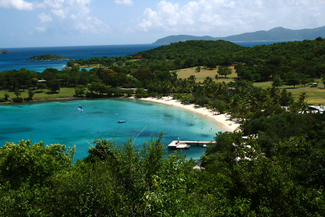 Caneel Bay has 7 beaches, yes 7, with two of them being adults only. They also have a kids program for infants through 12 years. Also one of their restaurants requires proper attire for dining. For men this means slacks, closed toe shoes and a jacket is strongly recommended.
Click here for more detailed information on Caneel Bay!
---
These two St John Resorts offer many amenities and both are truly lovely with beautiful landscaping and attention to detail. Your job is to decide which one is best suited for you!
---
Learn about Gallows Point Resort here, more St John resorts.
---
St John Fun Trivia: Trunk Bay was voted one of the Top Ten Beaches in the World by National Geographic!