Maho Bay Campgrounds, an affordable Eco-tourism Resort!
---
Maho Bay Campgrounds consist of tent/cottages and studio units that provide comfort while still protecting the delicate eco-system.



| | | |
| --- | --- | --- |
| | | |
| Oh the sights you will see when you try to snorkel! Click photo to enlarge. | Wow!!! A dream come true to see a Hawksbill sea turtle! Click photo to enlarge. | Colorful fish in the most beautiful place, St John! Click photo to enlarge. |
---
Maho Bay was the idea of Stanley Selengut, a New York developer, in 1976. His idea was to provide the visitors of St John with an opportunity to have an affordable vacation in an exquisite place, but also one that would be earth friendly. The eco system of St John needed to be protected but still enjoyed. Could these 2 ideas work together. YES! and they have for many, many years.

Many great ideas were implemented in its design. Pipes and electric cable were hidden under wooden walkways, while the walkways were made to preserve the ground cover. Low flush toilets, special faucets and showers were designed with the idea of lowering water consumption.


Rainwater collected was used to supply the laundry and bathhouse areas and re-cycled materials and wind and solar power are used. All of this has helped the resort earn many awards from the eco-tourism community.


Mr. Selengut is also responsible for the "sister property", Estate Concordia Eco Tents and Studios.(see link below)


Many recyclable items from the campers are used in the arts and crafts area to make a variety of items such as place mats, earrings and paperweights. Fun and imaginative idea!



---

"Wait a minute.....did I forget to tell you that Maho Bay is located on a beach..........a gorgeous, white sand beach!!!! with great swimming, snorkeling, sailing, kayaking, wind surfing, scuba diving??? I did!!"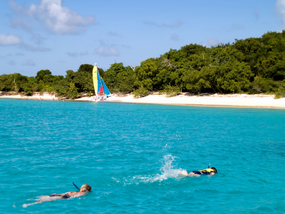 ---
Facilities available:
Maho Pavilion Restaurant: Open every day serving Breakfast 730am-930am, Happy Hour 430pm-530pm (November thru May) and Dinner 530pm-730pm. Great place for the family, very informal with fantastic views of the ocean.
Beach Cafe: Open every day from 11am to 3pm and is just a few steps from the beach. Basic lunch fare.
Maho Bay Water Sports Center: Rentals available for scuba, snorkeling, kayaks, small sailboats, wind surfing. Rentals of beach chairs and flotation mats too.
Trash to Treasure Art Center: Really an unbelievable number of activities and great schedule of classes. Try glass blowing in the Glass Studio, painting classes, learn how to tie-dye, make a clay mask, work with glass mosaics, make paper. Varied classes for kids and adults.
Maho Bay Store: Here you'll find all your necessities plus groceries, beer and wine.
---
At Maho Bay Campgrounds there is always something going on:
Check out these activities:
National Park Ranger tours
Activities Slide Show
Yoga Classes
Hiking Trips
Snorkel sails
Live Music
Glassblowing demo's
Potters wheel demos
Silk painting
Trip to Coral Bay
and oh yeah...relaxing, swimming, sunning, beautiful sunsets.....All at Maho Bay Campgrounds!
---
Click here for more information on Maho Bay Campgrounds
---

Click here for information on the sister property Estate Concordia Eco Tents and Studios.
---
Click here for information on Cinnamon Bay Campgrounds.