St John USVI, There's Plenty To Do!
"St John USVI is for you if you like.....
beaches, snorkeling, scuba, restaurants where the locals go, hiking, great weather, or just relaxing?"
"If that sounds good to you then.....you've found the place!"
My travels to St John were both action packed and fun! As a travel agent, when you traveled on what's called a "FAM trip" (Familiarization), the object is to familiarize yourself with the destination, see as many hotels, restaurants and attractions as possible in the shortest amount of time…go back to your office and sell that destination!! Exhausting, YES! But, fun and full of information!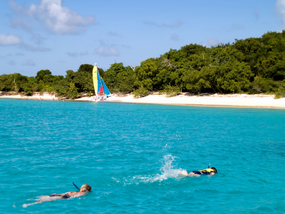 ---
…here's some info for you on all 3 of the US Virgin Islands!
---
Now about St John......
St John has no airport. To travel to the island you'll fly into St Thomas and take a 45 minute taxi ride to the Red Hook Ferry or 20 minute ride to the ferry in Charlotte Amalie. Here is some additional information for the ferry schedules to Cruz Bay, St John.
If you're picking up a rental car or jeep in St John, many are located in Cruz Bay. This is when your vacation begins! (But don't forget you'll be driving on the left side of the road and the speed limit is 20MPH...and oh yeah! You may have an encounter with a donkey or mongoose……)
Now, breath deep, smile and RELAX!
---
St John USVI is the smallest of the 3 US Virgin Islands. The island is only 19 sq miles, (click here for a map), but you'll find that its size is what makes it so enchanting. The island is 2/3 National Park and 1/3 of that is underwater. Because of this you'll find a quality to it that is unique, unspoiled and relaxing.
Adventurers will absolutely love the fact that St John USVI is environmentally protected from development. There are over 20 miles of nature trails, remains from 19th Century sugar mills, beaches that have incredible white sand and turquoise water.
Snorkeling is big here! Why? Because if you can swim, you can do it! You must try it! It's a whole new world under there! I know I'm hooked and I'm thinking of learning to scuba dive!(though I think this "aging thing" makes you a little more chicken!)


Hey, do you like great food and restaurants, dining with beautiful sunsets to watch or do you enjoy a quick meal from a side-of-the-road food stand, party-it-up bars with locals and other vacationers?? It's all here for you in St John US Virgin Islands!


Flip Flops or high heels…..wear what you want because the dress code is CASUAL everywhere! (exceptions only at a few top resorts).
---
For more St John USVI Information click here.