So…... I have some great travel information for you about the major airlines that fly into St Thomas airport (pictured below) and how to get a cheap airfare.

I've put together lots of travel information you'll want to have about the airlines that fly into St Thomas (where you will land).Taxi service from the airport to the ferry that takes you to St John, lots of general information, the best time to travel because of great weather, new security measure updates and updated passport information.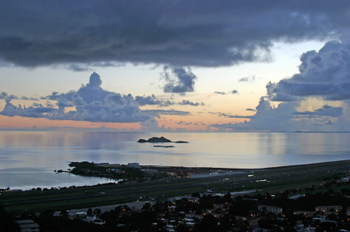 St Thomas Airport where you'll land.



I hope now you're thinking about how nice it will be to be vacationing on the island of St John that has no airport and of the "peace and quiet" that you'll find there.



Sure it would be more convenient when you travel to St John to arrive right there, but believe me…...you'll love the fact that there is no airport soon after you settle in to your villa rental or resort and don't hear any noise!


---
Ready…..


Getting there.......
First off, we all know by now that the airline industry is in a state of flux. Nothing stays the same to long, especially airfares. Because of the price of fuel the rates have gone up in recent months.


My best advice to you is to book your vacation as far in advance as possible and locking your airfare in by purchasing your tickets as soon as you're sure of your vacation dates to travel to St John.


Ok...…that said. Here is a list of the airlines that fly into St Thomas (Cyril E. King Airport).


MAJOR CARRIERS:
American Airlines (800-433-7300) www.aa.com
Continental Airlines (800-231-0856) www.continental.com
Delta Airlines (800-241-4141) www.delta.com
United Airlines (800-538-292) www.united.com
USAir (800-241-6522) www.usair.com
Smaller Carriers:
Air Sunshine (800-327-8900) or (888-879-8900) www.airsunshine.com
Cape Air (800-352-0714) www.flycapeair.com
---


Naturally, you want the best rate possible when you travel to St John. To get this it requires a little work on your part. But, it's so much fun.....remember I'm a former travel agent for over 12 years. So….it's in my blood!


If work is not what you're looking for, I highly recommend finding a travel agent (ask around) that will work hard to get you cheap airfare. They do this all day…and they know what they're doing.


But if you're like me, you like to do all the research yourself and then book with a travel agent. You tell them what you found, ask if they can do better, and they'll take care of it for you.


Hey, did you know that if you go to Google or Yahoo and just type in a search for the word 'travel to St John" you'll come up with lots of websites that will give you quick quotes on airfares and hotels.


That's what I love about sites like Travelocity, Expedia, Orbits, etc. is that they give you a quote for 5 to 6 different airlines at once. That's great! Then I verify that rate with each individual airline. When I find a great rate I book it with my travel agent who's a personal friend of mine. She gets the commission and I feel like I got a great deal! Win, Win!!


---
Once you arrive in St Thomas airport you'll need transportation from the airport to the ferry (don't forget this will be well worth it once you arrive in St John...remember it will be quiet, peaceful and oh yeah.. FUN!)

Taxi service is readily available to take you to either Charlotte Amalie or Red Hook for your ferry ride over to St John. Usually taxis are vans that hold 8-12 people and make various stops along the way.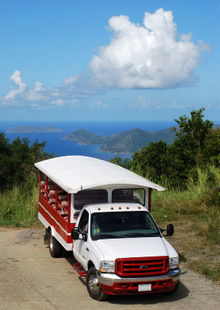 "Many taxis in St Thomas and St John are like this!"

So…. if you want a private taxi you should make your reservation in advance and I'll provide some names and websites for you. Naturally you will pay more for this service, but maybe you'll need that after a long day of travel.

The Taxi Commission is (340-776-8294). All legal taxis in St Thomas have a license plate that has a TP on it and a lighted Taxi sign on the roof.


Islander Taxi Service www.islandertaxiservice.com


East End Taxi www.eastendtaxi.com


Virgin Island Taxi Association www.vitaxi.com
---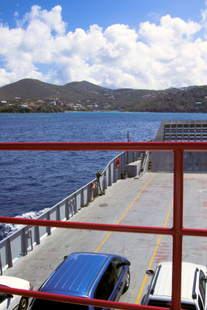 St Thomas Airport where you'll land! "There are passenger and auto ferries."
"When you travel to St John on the ferry this will be the time that you begin to relax a little. Feel that breeze blowing through your hair on the ride over and take a big long breath of the clean, ocean air. You are almost there.

I've put together for you the ferry schedules from Charlotte Amalie and Red Hook for you so you can click on the link below." Travel to St John by Ferry
---
Passports, Proof of Citizenship, Security Measures
Preparing before you travel to St John is important.
All the US Virgin Islands are US Territories. That means that no passport is required at this time but Proof of Citizenship is. If you plan to travel to the British Virgin Islands (and I highly recommend that you do) you will need a passport. The British Virgin Islands are only a short ferry ride out of Cruz Bay and fun to explore also. So…I highly recommend getting a passport!


If you don't get a Passport, Proof of Citizenship is as follows:
1. A valid US Passport or
2. A Certified copy of your Birth Certificate (has a raised seal on it) plus government issued photo ID or
3. Certificate of Citizenship or
4.Naturalization Certificate.


Here are some very important links for you.

In the world we live in now, things can and do change quickly. Please go to these links for all current information on Passports, Proof of Citizenship, security procedures, permitted and prohibited item that can be brought on board an aircraft, baggage requirements and traveling with children and pets.

Federal Aviation Administration - FAA
---
Transportation Security Administration - TSA
---
---


"I sure hope I provided you with lots of great information for your travels to St John. Please return to my Home Page from Travel to St John"